MISSION
1. CELEBRATE THE EUCHARIST
• Develop Eucharistic celebrations that are prayerful and relevant and involve the full
...participation of the parish community.

2. GROW A PERSONAL RELATIONSHIP WITH THE TRINITY
• Foster the experience of a personal relationship with God based on Scripture and
...current theology.
• Foster ongoing faith formation for all parishioners.

3. CARE FOR EACH OTHER AND OUR ENVIRONMENT
• Support the sick, lonely, aged and disabled within the parish.
• Through sound planning achieve sustainability, financial stability, transparency and ...future growth.
• Utilise the experience and talents of parishioners.

4. REACH OUT
• Reach out to those in need in the local community.
• Be committed to Catholic Social Justice principles.
• Pray and work together with Christian churches and other religions and people of
...good will.
• Engage with young people in the local area.
• Form bonds with the Indigenous people of the region.




STRATEGIES TOWARDS ACHIEVING MISSION
including but not limited to:

1. CELEBRATE THE EUCHARIST
• Develop sound homilies.
• Develop meaningful liturgical celebrations, appropriate music and culturally relevant ...events.
• Include opportunities for parishioners to share personal stories at Mass.
• Conduct small study groups on the Eucharist.
• Commission Readers and Eucharistic Ministers and provide training.

2. GROW A PERSONAL RELATIONSHIP WITH THE TRINITY
• Highlight this personal relationship throughout the year.
• Support different spiritualities centred on God's love.
• Promote opportunities to engage in spiritual development e.g. prayer days, retreats, ...pilgrimages.

3. CARE FOR EACH OTHER AND FOR THE ENVIRONMENT
• Promote social interaction through hospitality and social events.
• Work towards the appointment of a Parish Worker/Pastoral Associate.
• Search out activities to attract young people.
• Encourage current pastoral care groups.
• Utilise previous life and work experience of parishioners in parish operations.
• Encourage parishioners to welcome newcomers and visitors.
• Encourage involvement in parish groups.
• Make decisions in parish and personal lives that enable sustainability and contribute ...to the care of Mother Earth.
• Actively encourage the contribution of strategies to implement the Vision and
...Mission.

4. REACH OUT
• Support the work of St Vincent de Paul and the Knights of the Southern Cross.
• Attend and be pro-active in the functions of other Christian churches, religions and
...relevant social groups.
• Maintain contact with non-active Catholics.
• Support local efforts to reach out to young people.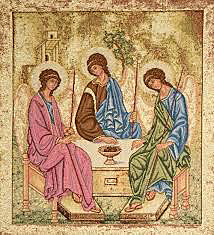 The Icon of the Trinity was painted in 1412 by Andrei Rublev. It is an interpretation of the story of the three angels who visited Abraham and Sarah. Genesis 18. The three angels are identical (one God) but dressed differently (Three Persons)
The bowl in the centre is understood to represent the Eucharist.